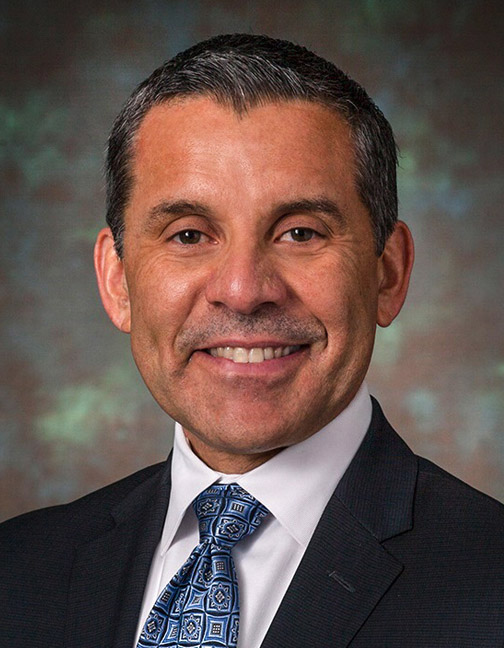 Director
Global Hawk Development
Northrop Grumman Corporation
Education:
M.S., Electrical Engineering, Stanford University;
B.S., Electrical Engineering, California State University, Northridge
For José M. Castellón, the "Lifetime" in Lifetime Achievement carries an especially deep significance. A diagnosis of Hodgkin's lymphoma at the age of 25 threatened to cut his life short. After beating cancer, José went on to build what's been an incredible 36-year career at Northrop Grumman. His tremendous work ethic, combined with a strong commitment to diversity, inclusion and STEM outreach in the community, have earned him praise and respect across the space and defense and aerospace industry.
A Southern California native, Mr. Castellón began his career at Northrop Grumman in 1982 as a summer intern lab technician. After completing his Master's degree at Stanford University, he decided to become a spacecraft systems engineer and earned an Astronautical Engineering certificate from UCLA, learning all aspects of satellite design.
Soon he was working on vital Air Force and NASA programs for Northrop Grumman, including as the System Engineering, Integration, & Test (SEIT) manager for the Missile Defense Agency's Space Tracking Satellite System, and as a System Engineering Subproject Manager on NASA's Chandra X-ray Observatory.
Next came a role as the Spacecraft Design Integration Lead for the National Reconnaissance Office's GeoLITE program, a fast-paced project requiring Mr. Castellón to complete development in record time. GeoLITE received the government's prestigious David Packard Award for Acquisition Excellence and earned him a letter of commendation from the NRO for his technical leadership.
The project propelled him onto a management track, beginning with leadership of the 60-person Spacecraft SEIT Department. His successful reorganization of the department led to increasing responsibilities, and he was soon leading a 160-person center providing engineering staffing for Space Vehicle, Lasers, Sensors and Control Systems for all sector programs.
In 2003, Mr. Castellón became the Spacecraft Platforms & Integrating Technology Director, where his $150M technology development portfolio included Spacecraft Advanced Platforms, Mechanical Systems, Data Management, Electrical Power, Autonomy, Controls, Robotics, In-space Propulsion and Space Transportation – technologies all now used on many major spacecraft programs.
He also supervised the program to build the nation's first space-based, autonomous propellant-transfer service system, enabling the ability to refuel satellites while in space and extending their mission.
In 2006, as Northrup Grumman's Space Segment Manager and Acting Deputy Program Manager, he became responsible for all satellite systems and launch vehicle system integration for a $1B+ program funded by the National Oceanic and Atmospheric administration and NASA to build the next-generation of geostationary weather satellites.
With his wealth of experience, the company then chose Mr. Castellón to improve cost competitiveness and affordability for both the SEIT and Ground Systems organization for the 10,000 employee-strong Aerospace Engineering organization. His success led to a nomination to the prestigious Executive Program at the UCLA Anderson School of Business School, reserved for the company's top managers.
After a three-year stint as the head of Global Diversity & Inclusion for the 20,000 employee Aerospace Systems Sector, he returned engineering, though this time to lead projects that fly much lower than satellites. As the Director of Systems Engineering and Integration for the Global Hawk unmanned drone, he helps ensure the development of the autonomous, high altitude, long endurance aircraft that provide continuous intelligence, surveillance and reconnaissance data to U.S. military.
This is Mr. Castellón's second HENAAC Award. He received the Professional Achievement Award in 2007.