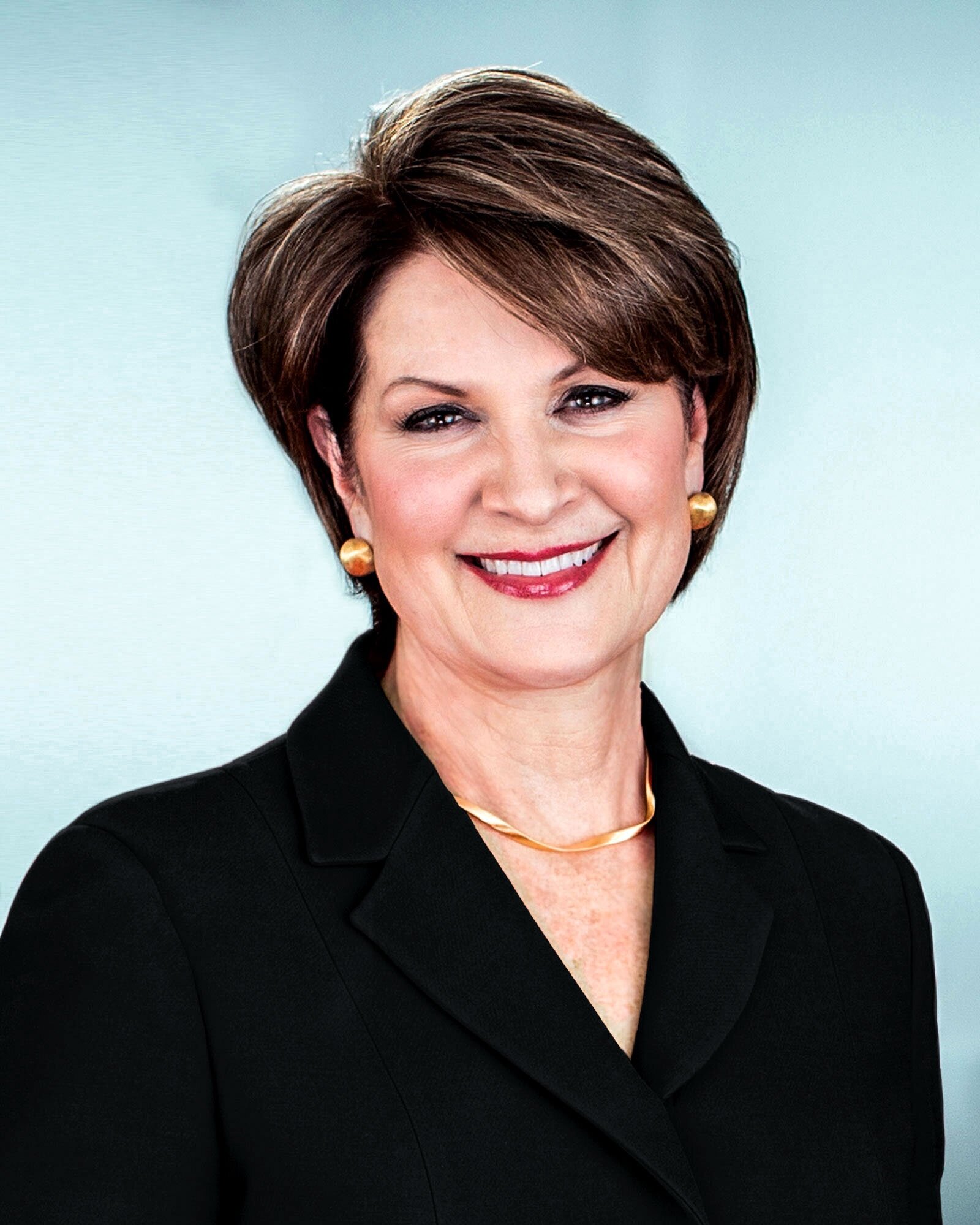 Chairman, President and Chief Executive Officer
Lockheed Martin Corporation
M.A., Economics, University of Alabama
B.S., Business Administration, University of Alabama
Additional graduate level executive programs completed at Columbia Business School and Harvard Business School

It's nearly impossible to exhaust superlatives when describing Marillyn A. Hewson, the 2019 Chairman's Award Recipient. She was named one of the "50 Most Powerful Women in Business" by Fortune Magazine in 2010, 2011, 2012, 2015, and 2018. In fact, in 2018, she was #1 on Fortune's coveted list. Not to be outdone, Forbes Magazine listed Ms. Hewson in their Top 20 in 2014 and 2015, and in 2018 she cracked their top 10.
In 2017, she was inducted into the Wash100 for international market focus and F-35 leadership, and the Harvard Business Review listed her at #35 on their "Best-Performing CEOs in the World" list in 2017. Last year, Chief Executive Magazine named Ms. Hewson their "CEO of the Year," and earlier this year, TIME Magazine identified Ms. Hewson as one of the "100 Most Influential People in the World."

These accolades only scratch the surface of the impact she's had on American and International Business, the defense, aerospace, space and cybersecurity industries, and our nation's military since she's been at the helm at Lockheed Martin Corporation.
Ms. Hewson joined Lockheed Martin in 1983 as an industrial engineer. During her rise up the ranks, she's held several leadership positions, including President of Lockheed Martin Systems Integration; Executive Vice President of Global Sustainment for Lockheed Martin Aeronautics; and President and General Manager of Kelly Aviation Center, L.P. She has served in key corporate executive roles, including Senior Vice President of Corporate Shared Services; Vice President of Global Supply Chain Management; and Vice President of Corporate Internal Audit.
On November 9, 2012, she was elected to Lockheed Martin's board of directors, and in January 2013 she assumed the role of Chief Executive Officer. Since becoming CEO, Lockheed Martin's market cap has doubled.

Ms. Hewson currently serves on the Board of Directors of Johnson & Johnson, the Congressional Medal of Honor Foundation, the Board of Governors of the USO, and as Chair of the Catalyst Board of Directors. She previously served on the boards of DuPont, DowDuPont and Carpenter Technology. She is a member of The University of Alabama's President's Cabinet and the Board of Visitors of the Culverhouse College of Business. Ms. Hewson has served on several U.S. government advisory bodies, including current appointments to the American Workforce Policy Advisory Board and the National Space Council's Users Advisory Group.
She is former chairman and current Executive Committee member of the Aerospace Industries Association, a member of the Board of Directors of the Business Roundtable, a Director of the Atlantic Council's International Advisory Board, a Fellow of the Royal Aeronautical Society and an Associate Fellow of the American Institute of Aeronautics and Astronautics. Ms. Hewson also serves on the Board of Trustees of the King Abdullah University of Science and Technology in the Kingdom of Saudi Arabia, and the Khalifa University for Science and Technology in the United Arab Emirates.
Under her watch, Lockheed Martin has established itself as a champion of diversity and inclusion, and they've worked tirelessly with Great Minds in STEM and other non-profit organizations to expand opportunities in STEM for students from underserved communities. Her personal and active participation in diversity and outreach engagement on behalf of Lockheed Martin sets a consistent tone company and even industry wide.