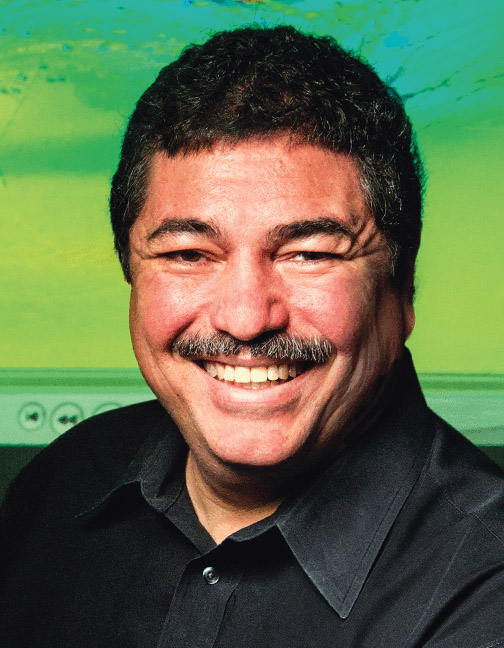 Professor, Department of Physics and
Co-Director, UTeach Arlington
University of Texas at Arlington
Education:
Ph.D., Space Physics, Rice University;
M.S., Space Physics, Rice University;
B.S., Physics, University of Illinois at Urbana-Champaign
When Dr. Ramon E. Lopez was still in middle school, he boldly announced to his Puerto Rican-born parents that he was going to get a Ph.D. in Physics. An abiding interest in space, nurtured by the gift of a telescope when he was a child during the era of the first moon landings, inspired him to make that confident claim. So eager was he to pursue this goal that he left high school before graduation and applied to the University of Illinois at Champaign-Urbana through a special program. Soon after he received his doctorate in space physics from Rice University after he completed his undergraduate degree.
Today Dr. Lopez is a Professor of Physics at the University of Texas at Arlington and the co-director of the UTeach program at the university. On the research side of his responsibilities, he works in the cutting edge field of space plasma physics, focusing on solar wind-magnetosphere interactions, magnetic storms and substorms, and space weather. His investigatory efforts have earned him a position a fellowship at the American Physical Society and a Nicholson Medal for Humanitarian Service to Science from that organization. He was also awarded an Outstanding Researcher Award from UT Arlington.
It is Dr. Lopez's work promoting physics education, however, that truly shines above everything else. His active research program in the field focuses on spatial/visual cognition, combined with his leadership in national physics education, places him at the forefront of science education. He's an author of the College Board Standards for College Success, and he's a member of the Leadership Team that directed the writing of the Next Generation Science Standards
Before joining the faculty of UT Arlington, Dr. Lopez worked in space physics at the Johns Hopkins University Applied Physics Laboratory before moving to the University of Maryland where he worked on a mix of science and science education projects. That stint led to an appointment by American Physical Society to serve as their Director of Education, a position he pursued part time so he could continue his independent projects at the University of Maryland.
After five years in this dual role, the University of Texas at El Paso recruited Dr. Lopez to chair the Physics Department, a position he held for another five years before moving to teach at the Florida Institute of Technology to be close to his Orlando-based parents.
In 2007, he made his last move to UT Arlington where he helped establish a the UTeach program. This groundbreaking initiative transformed the preparation of high school science and mathematics teachers and has increased both the quality of their instruction and the number of teachers entering the field.
A recipient of the University of Texas System Regent's Outstanding Teaching Award as well as being named the UTA Outstanding Doctoral Mentor, Dr. López was inducted into the UTA Academy of Distinguished Teachers this year. He is the author or co-author of hundreds of scientific papers and the member of numerous scientific and educational committees and organizations.