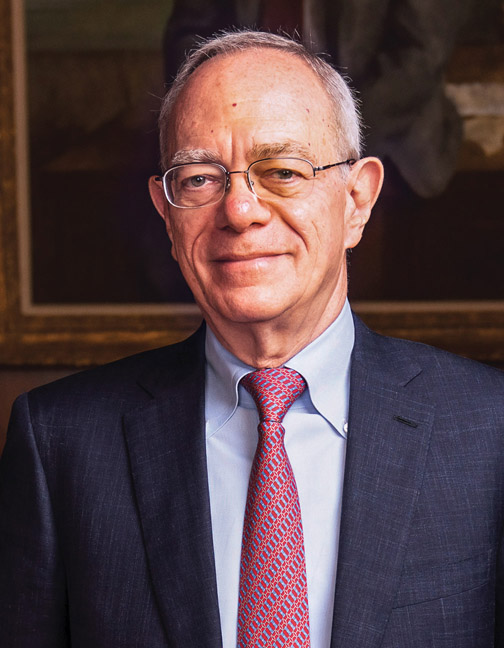 President
Massachusetts Institute of Technology
B.S., Electrical Engineering, Universidad de Carabobo (Valencia, Venezuela);
M.S., Electrical Engineering, Stanford University;
Ph.D., Electrical Engineering, Stanford University
Attending college at the Universidad de Carabobo in Venezuela in the early 1970's, Dr. L. Raphael Reif had next to no access to textbooks to review the material that his professors taught in class. To truly learn the electrical engineering subjects that he was studying, he had to do his own detective work at the university library to find books that covered the subjects of his coursework and found that the most authoritative sources tended to be published by the Massachusetts Institute of Technology Press. Little did he know that decades later, he would be living in another country thousands of miles away from his home serving as the president of MIT, the august educational institution that is lauded as the number one ranked university in the world.
The MIT that Dr. Reif presides over today has come a long way since the first classes were taught at the school in 1865. With a long-storied history that has seen the private research institution associated with 91 Nobel laureates, 25 Turing Award winners, 52 National Medal of Science recipients, 65 Marshall Scholars, 45 Rhodes Scholars, 38 MacArthur Fellows, 34 astronauts and 16 Chief Scientists of the U.S. Air Force, Dr. Reif has firmly upheld the academic and research standards of the university while boldly pushing it toward new horizons.
Among the many innovative new programs that Dr. Reif has helped shepherd at MIT as an administrator are the groundbreaking online education programs MITx and edX, an open online learning platform that has already engaged more than 16 million unique learners. As part of a broader overhaul, he spearheaded the institute-wide Task Force on the Future of MIT Education which spurred rapid adoption of blended learning models in MIT classrooms and has championed the rollout of a MicroMaster's credential from MITx, the Institute's portfolio of massive open online courses.
Before ascending the ladder in the world of university administration, however, Dr. Reif began his career as an engineer, research scientist, and educator. Born in Venezuela, he grew up speaking Spanish and Yiddish in his poor household. Initially unsure what career path he wanted to take, he knew he should choose a practical profession. An early fascination with electrical circuits led him to pursue his undergraduate degree in Electrical Engineering. After a brief stint as an engineer at an electronics company left him feeling unchallenged, he returned to academia as an Assistant Professor at the Universidad Simon Bolivar, discovering that he loved teaching and research more than anything else.
Shortly afterwards, Dr. Reif moved to the U.S. for his post-graduate education, and within a few years he had successfully overcome a challenging language barrier and had earned both his M.S. and his Ph.D. in Electrical Engineering from Stanford University in the heart of Silicon Valley. He longed to return home to his family and friends in Venezuela and planned to do so upon completing his education. Fate stepped in, however, in the form of an invitation to interview for a faculty position at MIT. He felt it would be rude not to at least meet with the most admired institution in his field, and so after he graduated from Stanford he made the cross country trek expecting to head home to Caracas soon after.
Not long after setting foot in Cambridge, Massachusetts, Dr. Reif recalls being "blown away" by the people, the atmosphere, and the culture. "It was a paradise of academia," he remembers feeling almost instantly. He decided to postpone moving back to Venezuela for a "few years," but 38 years later one can safely assume he's not moving back anytime soon.
Dr. Reif began his long career at MIT as an assistant professor in the department of Electrical Engineering and Computer Science (EECS), and it wasn't long before he was awarded a U.S. Presidential Young Investigator Award. He quickly rose through the academic ranks, gaining tenure as a full professor within five years of his arrival, and was soon named the director of the institute's Microsystems Technology Laboratories. In 1993, he became a fellow of the Institute of Electrical and Electronics Engineers (IEEE) for his "pioneering work in the low temperature epitaxial growth of semi-conductor thin films." His research work also earned him the Semiconductor Research Corporation's Aristotle Award.
Concentrating on research and teaching, Dr. Reif soon became associate department head and then department head of EECS and was awarded the position as the Fariborz Maseeh Professor of Emerging Technology. His experience heading the Microsystems Technologies lab, representing faculty and students in a cross-disciplinary community of shared facilities and equipment, inspired him to switch from making a name for himself to the larger mission of working on behalf of the entire Institute.
In 2005 Dr. Reif became the provost of MIT and helped create and implement the strategy that helped the institute weather the worldwide financial crisis. He was instrumental in the school's efforts to drive the growth of MIT's global strategy, promoted a major faculty-developed effort to address challenges surrounding issues of race and diversity, and assisted in the launch of the Institute of Medical Engineering and Sciences.
Since Dr. Reif was selected to serve as the 17th president of MIT in 2012, he has been a leading champion of both fundamental science and the institute's signature style of interdisciplinary, problem-centered research. He's also pursued an aggressive agenda of innovation and entrepreneurship. In addition to the previously mentioned MITx and edX programs, he has been instrumental in the launch of the MIT Integrated Learning Initiative (MITili), an exploration of the deep mechanisms of learning aimed at making teaching more effective
His work on MITx earned him the 2012 Tribeca Disruptive Innovation Award, and in 2105 the Woodrow Wilson National Fellowship foundation honored him with the Frank J. Taplin, Jr. Public Intellectual Award for his leadership in envisioning "what education must become in a global, digital, information economy."
Dr. Reif's forward oriented leadership has resulted in the launch of the MIT Environmental Solutions Initiative and the Abdul Latif Jameel World Water and Food Security Laboratory to help solve the issues involved in the world's changing climate, in conjunction with his development of MIT's Plan for Action on Climate Change. He has made it his priority to equip the next generation of innovators with the tools they need to transform their ideas into reality, launching The Engine, a business accelerator designed to help new ventures turn "tough technologies" into innovations that address humanity's greatest problems.
The Engine was just one of the many efforts that Dr. Reif has overseen to ensure that MIT remains the most stimulating and supportive academic environment in the world for innovation. This kind of large-scale thinking extends to the world of nanotechnology as well, with the construction of MIT.nano, a major new experimental facility opening this year on campus.
With his years of continuous achievement, it's only natural that Dr. Reif has been the recipient of numerous awards and commendations. An elected member of the American Academy of Arts and Sciences, the National Academy of Engineering, and the Chinese Academy of Engineering, he is listed as inventor or co-inventor on 13 patents, has edited or co-edited five books, and has supervised 38 doctoral theses. In addition to the IEEE, he is a member of Tau Beta Pi and the Electrochemical Society and has received honorary Doctorates from the Chinese University of Hong Kong, Tsinghua University, and the Technion.
On Dr. Reif's long and productive journey from a young boy fascinated with electric circuits to the leader of the world's pre-eminent STEM educational institute, he has learned one crucial piece of advice that he wants to impart to any student about to embark on their own path to the future: "STEM opportunities abound in a digital future, so find something that you enjoy doing and you will lead a fulfilled, happy, prosperous, and innovative life."