•Most Promising Engineer - Undergraduate Degree•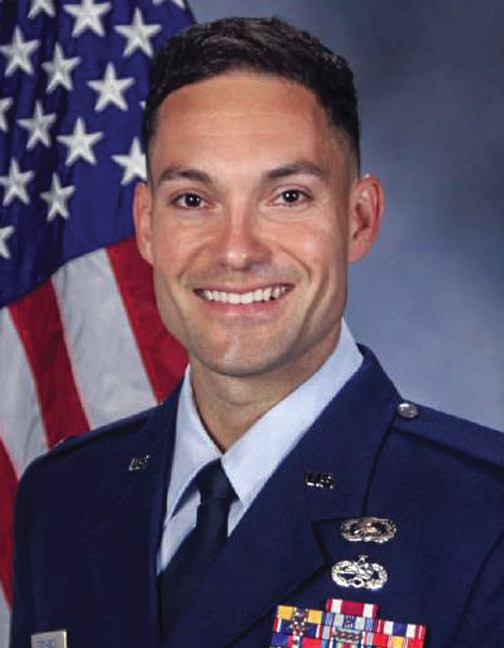 Flight Commander
Mission Support Flight Lead, Power Space & Cooling Engineer, 485th Intelligence Squadron
U.S. Air Force
Education:
B.S., Electrical Engineering, University of South Florida
A chance encounter with some U.S. Air Force recruiters in his native Panama led Captain Jason W. Fischbach to where he is today: the Flight Commander and Mission Support Flight Lead as well as a Power Space and Cooling Engineer for the 485th Intelligence Squadron of the U.S. Air Force. He credits his older brother for encouraging him to pursue programs to provide funding for college for members who served honorably in the U.S. military for at least four years.
Shortly after the recruiters confirmed his brother's claim, he took the bus to Howard Air Force Base in the Panama Canal Zone to enlist. Soon, Captain Fischbach was on a plane to Miami to begin official military processing and await transportation to Lackland AFB, Texas, where he completed basic training and graduated from technical training school as a secure communications systems apprentice.
After his first four-year term was up, he re-enrolled for another six years and took college classes at night until he finished the requirements for the Airman Education and Commissioning Program. By this time, Captain Fischbach had met the love of his life and was married only one month before becoming a full-time student at the University of South Florida in Tampa. He completed his B.S. in Electrical Engineering a couple of years later and graduated summa cum laude, becoming the first person in his family to earn an undergraduate degree.
Since graduation, Captain Fischbach has proven himself to be an extremely versatile engineer. In very short order he's become adept at solving complex technical issues supporting the cyber, intelligence and space mission areas. His first assignment was with the Global Positioning Systems (GPS) Directorate at Los Angeles AFB as the government lead engineer supporting the production of the GPS Block IIF satellites. In this capacity, Captain Fischbach oversaw a team of contractors who were responsible for building, integrating and testing the GPS IIF space vehicle, and he was soon selected to be the Government Lead Test Director for two GPS IIF Launches.
In 2014, Captain Fischbach was assigned as the Lead System Integrator for the Global Positioning System's Next Generation Operational Control System where he led the integration of control segment engineering changes with the space and user segments. Currently, he is the Flight Commander of the Mission Support Flight and the Lead Power, Space, and Cooling Engineer for the 485th Intelligence Squadron at Mainz Kastel Station in Germany.
Captain Fischbach is responsible for directing all support functions for a highly diversified intelligence squadron comprised of over 80 personnel from 18 distinct Air Force Specialty Codes. He is also responsible for validating power, space and cooling requirements for information technology data centers supporting over 3,500 users spanning three of Combatant Commands' areas of responsibility.
The recipient of multiple medals for Meritorious Service, Joint Service Commendation, Air Force Commendation with two oak leaf clusters, and Air Force Achievement with two oak leaf clusters, Captain Fischbach has been named Officer of the Year multiple times.
Always very involved in the community, he enjoys singing in his church, leading Cub Scouts, and promoting STEM at the local elementary school, as well as spending time with his family, working out, and playing music.